Clear and Metal Braces
Clear Ceramic Braces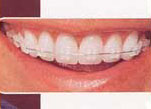 Braces make treatment nearly invisible. The polymer-brace offers you better quality of working life. Its transucent, making it one of the most popular aesthetic choices in braces today.
Colors on Metal Braces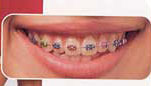 Metal braces are smaller than ever before and you can express your individuality. Part of the fun of having braces is choosing different-colored elastics at each appiontment. You can celebrate your school spirit, choose black and white for Halloween or select any number of fun colors that shows your style.